ProductContent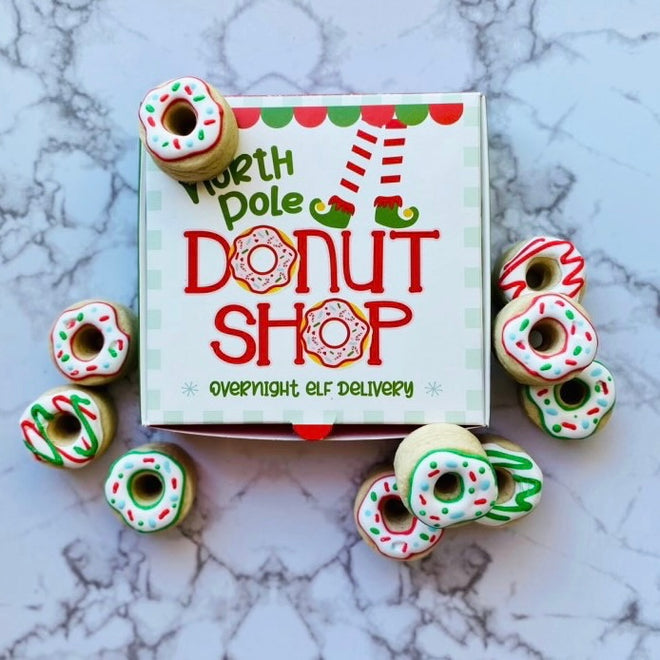 Tiny Elf Donut Cookie Multi-Cutter & Dough Popper
Tiny Elf Donut Cookie Multi-Cutter & Dough Popper
Product Description
Details, Size & Options
This Tiny Donut cookie multi-cutter and popper set cuts out five tiny 1 inch Elf sized donut shapes perfect for making elf mischief! Set includes circle multi-cutter, donut hole puncher with spacer, circle popper, and donut hole cleaning tool. 
How to use the Donut Multi-Cutter and Popper Set to make tiny donut cookies:
The multi-cutter and poppers work best with cold dough. Room temperature dough still works, but 

when cutting out room temperature dough, some shapes may stay in place, while others may get stuck in the cutter. To take full advantage of the poppers, use cold dough so that all of the shapes stay in the cutter when you lift it up.

Use the circle multi-cutter to cut the circles - leaving the multi-cutter in the dough! Don't pull it out yet!

Next use the donut hole cutter (which has spacers to help you center the donut holes) to cut out the centers of the donuts by placing the donut hole cutter inside of the circle multi-cutter while its still in the dough. Then pull the donut hole cutter out - it will lift out the centers of the circle shapes.

Now that the donut holes are cut out, lift the multi-cutter up - and the donut shapes should lift up with the cutter.

Move the multi-cutter over your baking sheet then p

lace the popper (with the full circle shapes) in the multi-cutter and push the donut dough shapes 

out over your baking sheet! Pop!

You can then use the donut hole cleaner to clean out the dough that gets stuck in the donut hole cutter - just move it in and out of the cutter a few times. 
These tiny donut shapes are so adorable! You can fit 9 tiny donuts in the Miss Cookie Packaging Donut Shop Box and have them be an accessory for your mischievous elf! Donut boxes by Miss Cookie Packaging sold separately.