ProductContent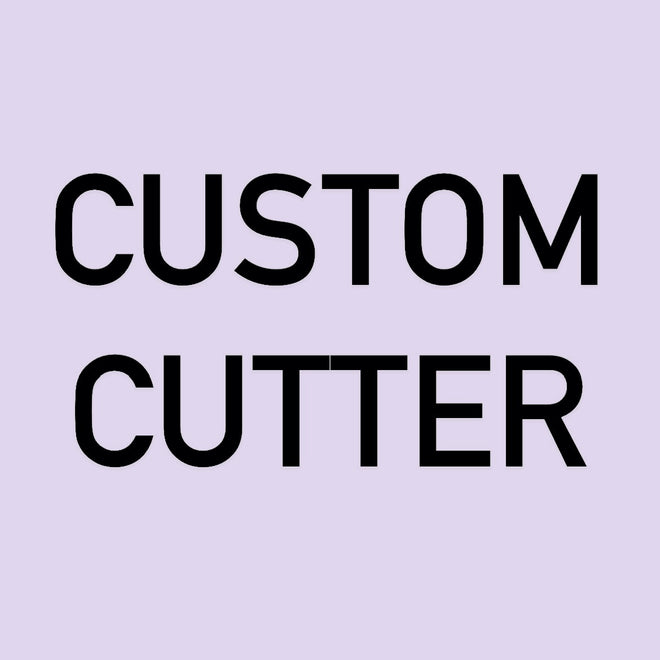 Custom Cutter
Product Description
Details, Size & Options
This listing is to request a custom cookie cutter. Please read all instructions before purchasing. 
Pricing
The $6 design fee covers the design work for one cookie cutter in one size.  If the cutter is something we can sell in our shop this is all you will pay. If the cutter is not something we can list in the shop (for example, a logo or something so specific that we don't think others would purchase it), then the custom design fee will be in addition to the price of the cutter. A lot of shapes we do list in our shop. If you have any questions please text Amanda at 818-860-0602.
For custom multi-cutters the design fee is in addition to the price of the cutter, because these are more time-consuming to make and take longer to print.
For custom cutters that we can't sell in our shop:
Once the cutter(s) are made, you will be invoiced separately for the price of the cookie cutters (this price is based on the size of the cookie cutters and how long they take to print.) The cookie cutters will be priced similarly to other cutters in our shop. Generally, more complex and larger designs take longer to print and will be priced higher, while simpler designs are faster to print and will be priced lower. 
Processing Time
Please allow up to one week for your custom cutter to be made. If you request multiple custom cutters with your order, the processing time may take 1-2 weeks.
How it Works
Purchase this listing and then send us an email with images and sizing information to requests@brightoncutters.com. Once we have the size and any images we need we will get started. If we have any questions while making your cutter, we will reach out to you. Please be prompt in responding or it may delay the timeline of your custom cutter.
Floral Sugar Skull Beauty
Amanda always delivers! You ask and she'll listen. My go to lady for all my custom needs. She's very knowledgeable and I trust all her suggestions.
Thank you Amanda, for always making my work worry free.
Perfect plaque
I ordered a square plaque with lemons and leaves. It came out perfect!!
Custom Cuttet
Amanda was super helpful and very knowledgeable when I sent in my request for (7) custom cutters! She gave valuable feedback and helped me to see I needed to tweak a few designs for better baking results (ie no broken cookies)
Thanks for the prompt response and perfect cutters for my upcoming projects!!
Custom Cookie Cuttet
So easy to work with and the cutter was perfect just as all her cutters Re
Fast, high quality, excellent customer service
Very helpful and communicative customer service, even for a small custom order, which I really appreciated. High quality products and great communication. Amanda went above and beyond to make sure my item arrived in time for my event date. Will definitely order again.