ProductContent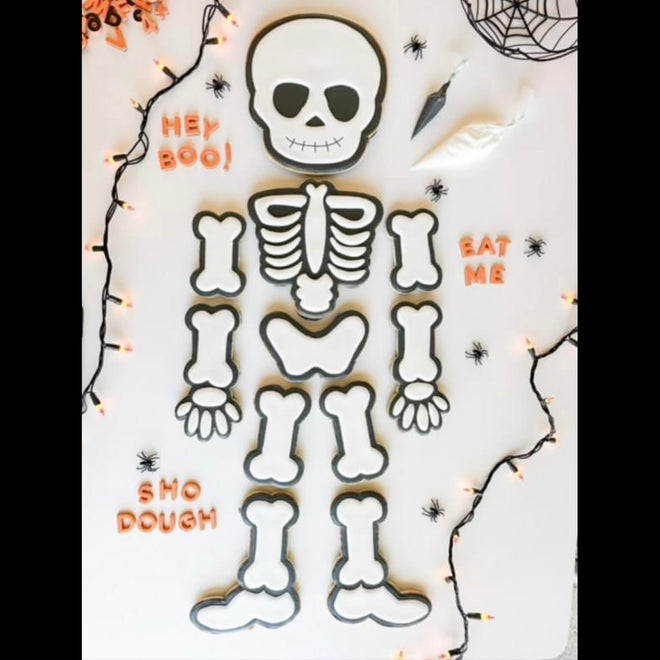 X-Large Build-a-Skeleton (almost 3 feet tall)
X-Large Build-a-Skeleton (almost 3 feet tall)
Product Description
Details, Size & Options
Build-a-Skeleton set is sold as a set of 7 or 9 cutters. Set of 7 includes head, body, pelvis, upper arm, left lower arm, thigh and left lower leg. Set of 9 includes head, body, upper arm, left and right lower arm cutters, thigh, and left and right lower leg cutters. 

Assembled Skeleton dimensions: 2 feet 10 inches 
Cutter dimensions*:
Head: 8.5 in. x 7.5 in. 
Chest: 7.5 in. x 7.38 in. 
Pelvis: 3.25 in. x 7.25 in.  
Upper Arm Bone: 4.63 in. x 2.88 in.  
Forearm and Hand Bones: 7.5 in. x 3.5 in.  
Thigh Bone: 5.5 in. x 3.13 in. 
Calf Bone with Foot: 7.88 in. x 6 in. 
Photo Credit:
Skeleton decorated by Sho Dough Cookie Co 
*Cutter dimensions are rounded to the nearest 1/8th of an inch and may vary slightly depending on how the cutter is measured.