ProductContent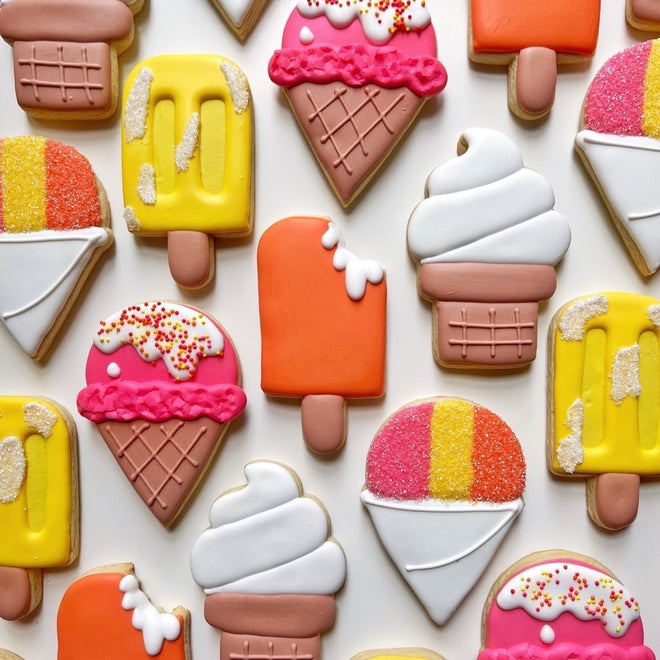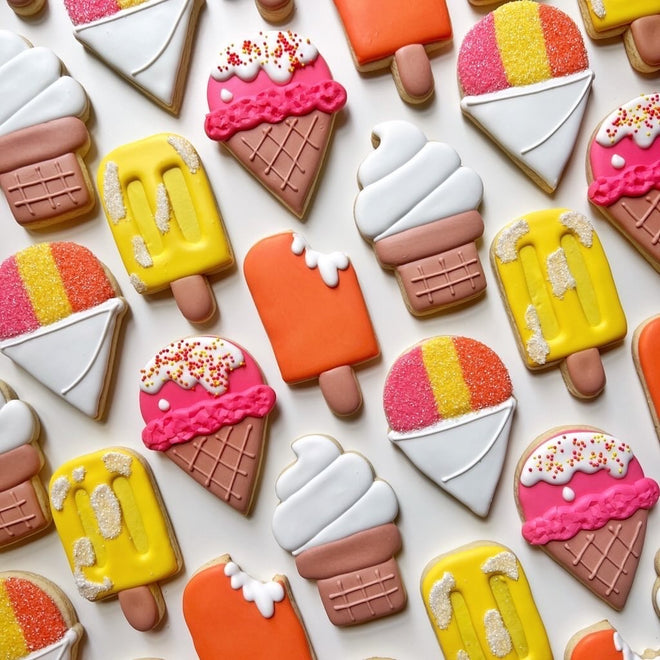 The Graceful Baker's 'Frozen Treats'
The Graceful Baker's 'Frozen Treats'
Product Description
Details, Size & Options
These are the three cutters and one 'bite' tool that Grace uses in her 'Frozen Treats' cookie decorating workshop.
Cutters are available individually or as a set (set includes all 3 cutters and the bite tool). This cutter set makes all 5 cookies shown in the image of decorated cookies by The Graceful Baker. The Snow Cone and Ice Cream Cone are both made with the same cutter. The Popsicle with Bite is made wth the Popsicle cutter and bite tool. 
Workshop sold separately. To purchase Grace's current workshops visit: 
Frozen Treats
Cutter designs and dimensions*:
Bite: 1.15 inch wide. 
Creemee Cone (Soft Serve): 3.75 in. tall x 2.5 in. wide
Popsicle: 3.75 in. tall x 2 in. wide
Snow Cone / Ice Cream Cone: 3.75 in. tall x 2.6 in. wide
Photo Credit:
Frozen Treats cookies decorated by The Graceful Baker
Creemee Cone, Snow Cone & Bite designed in collaboration with The Graceful Baker.
Popsicle designed by Brighton Cutters.
*Cutter dimensions are rounded to the nearest 1/8th of an inch and may vary slightly depending on how the cutter is measured.
Cute summer vibe cutters
These cookie cutters were so adorable and well made. I especially loved the bite mark cutter that I could use on other cookies. The bite mark looked so real you have to tell people it is not real. The ice cream cone, and snow cone was a hit with the kids. They made nice size cookies too.
Worked great!
Cutters were easy to use and the cookies they made were so cute!
Great cutters!
These cutters are adorable and the perfect size for cute little sweet treat cookies!