ProductContent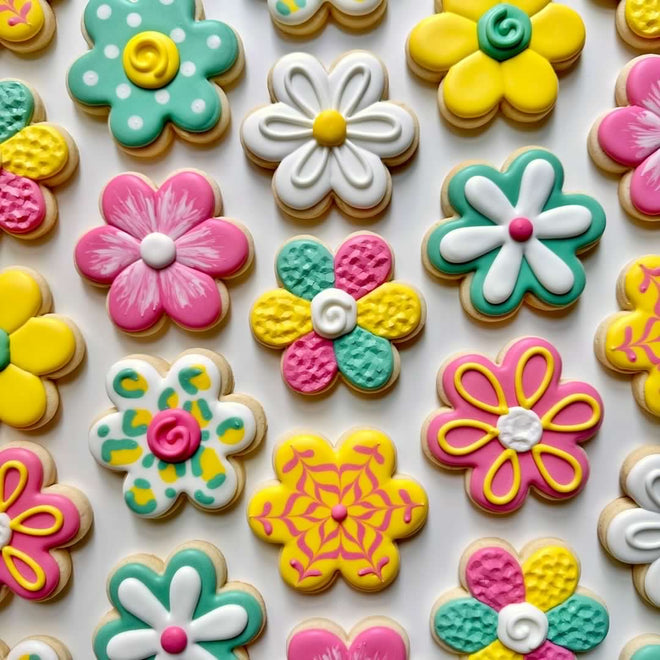 Grace's 6 Petal Flower
Product Description
Details, Size & Options
Grace's 6 Petal Flower cutter is available in 6 sizes. 

Cutter dimensions*:
Mini: 2 in. tall x 2 in. wide
X- Small: 2.5 in. tall x 2.5 in. wide
Small: 3 in. tall x 3 in. wide
Medium: 3.25 in. tall x 3.25 in. wide
Regular: 3.5 in. tall x 3.5 in. wide
Large: 3.75 in. tall x 3.75 in. wide
Photo Credit:
Funky Flowers cookies decorated by The Graceful Baker

*Cutter dimensions are rounded to the nearest 1/8th of an inch and may vary slightly depending on how the cutter is measured. 
LOVE LOVE LOVE this Flower Cutter!
My daughter asked me to make some flower sugar cookies for my granddaughter's birthday party. I am a beginner cookier and this is the perfect shape for what she wants. (I actually saw this cookie cutter in The Graceful Baker's Instagram account for a cookie class and was happy to see it was a Brighton Cutter). I have already made a batch of cookies to practice and Love them. I really like Brighton Cutters - the cut so cleanly and make such a pretty cookie right out of the oven. I will be back for all my cookie cutter needs! Thank you!!