ProductContent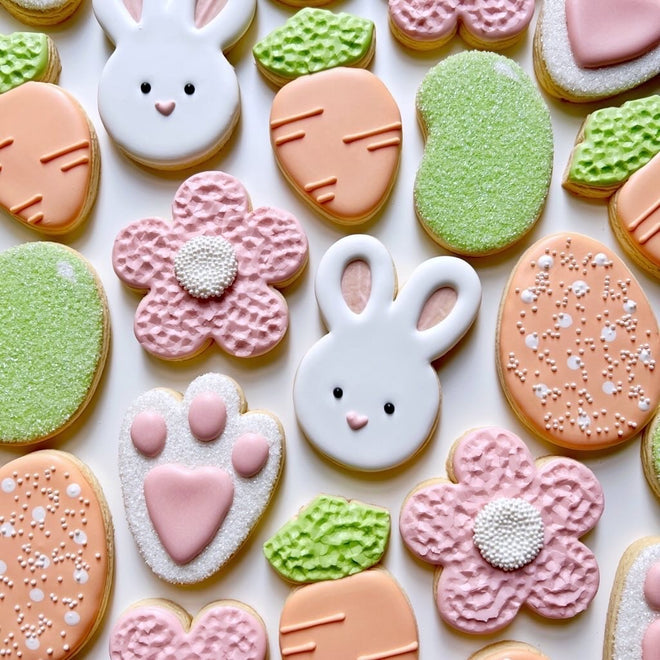 Hoppy Easter Collection - The Graceful Baker's 'Easter Bunny'
Hoppy Easter Collection - The Graceful Baker's 'Easter Bunny'
Product Description
Details, Size & Options
Use the discount code EASTER10 to save 10% on a set of 6.
These are the 6 cutters that Grace of The Graceful Baker is used for her Beginner Easter Bunny Class. Cutters are available individually or as a set of 6. This set is also available as a set of Easter Minis. 
Workshop sold separately. To purchase Grace's workshop visit:
Easter Bunny Class

Cutter designs and dimensions*:
Carrot: 3.75 in. tall x in. wide 2 in wide
Bunny: 3.75 in. tall x 2.63 in. wide
Egg: 3.5 in. tall x 2.5 in. wide
Jelly Bean: 3.38 in. tall x 2 in. wide
Bunny Foot: 3.25 in. tall x 2.5 in. wide
Flower: 3.13 in. tall x 3.13 in. wide
Photo Credit:
Pink and Green Hoppy Easter cookies decorated by The Graceful Baker
Mixed Pastel Hoppy Easter cookies decorated by Heatherly Homemade
*Cutter dimensions are rounded to the nearest 1/8th of an inch and may vary slightly depending on how the cutter is measured. 

These are just the cutest cutters. Great quality. Love the design ideas. Can't wait to start icing. All cookies baked nicely with good clean edges. Love the weight of these, not cheap feeling.
I'd give 10 stars
This is my first time using Brighton Cutters for The Graceful Baker's online class. They are fantastic! My hand didn't hurt and they made such a clean cut cookie! I would highly recommend this set and probably any set from Brighton Cutters. I have a feeling the cookies will be the talk of Easter!
Great cutters!!
Loved the Brighton Cutters for Grace's beginners Easter cookie class! They made crisp edges and cut through my chilled dough with ease. Also they were easy to clean!