ProductContent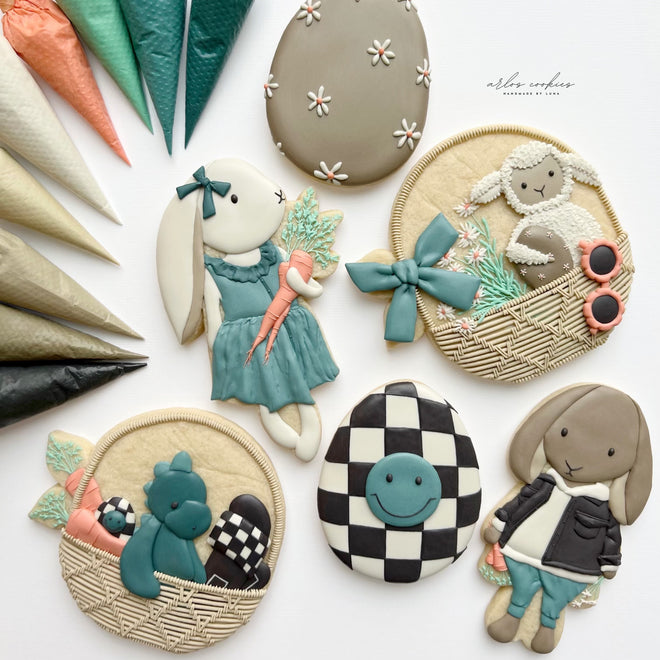 Arlo's Cookie's Bunnies and Friends Cutters
Arlo's Cookie's Bunnies and Friends Cutters
Product Description
Details, Size & Options
Save 10% on the Set of 4 with the code ARLOSCOOKIES
Bunnies and Friends workshop cutters are available individually or as a set of 4. The bunny cutters in this listing are the same cutters as Luna's Bunnies in size Large. The Egg cutter is our Easter Egg in size Medium. The Basket is the same as the Apple Basket cutter from Arlo's Cookies Fall Apples set. 
These are the 4 cookie cutters that Luna uses in her Bunnies and Friends workshop. Workshop sold separately at Arlo's Cookies.
Cutter designs and dimensions*:Bunny in Jacket
: 2 in. wide x 4.13 in. tall
Bunny in Dress
: 2.75 in wide x 4.5 in tall 
Basket: 
3.5  inches tall x 3.75 in. wide.
Egg:
3 in. tall x 2.13 inches wide 
Bunny in Jacket, Bunny in Dress and Basket cutters are based on original design by Arlo's Cookies
Photo Credit:
Bunnies and Friends cookies with baskets by Arlo's Cookies
Bunnies with carrots and flowers by Eats Vegan Treats
*Cutter dimensions are rounded to the nearest 1/8th of an inch and may vary slightly depending on how the cutter is measured.