ProductContent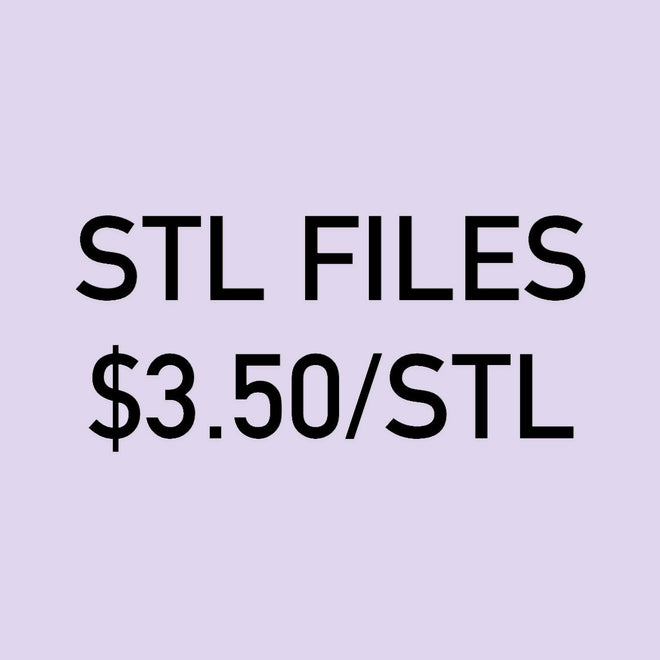 STL File Request
Product Description
Details, Size & Options
We are now emailing STL files within 24 hours (excluding weekends and holidays.) For delivery within 24 hours please email us at requests@brightoncutters.com immediately after purchase with the name and size of the cutters you are requesting files for. 

Please read before purchasing:
Use this listing to request the purchase of STL files. STL files are available at the low cost of $3.50 per file for the convenience of home bakers with 3D printers. 
Please do not print this file on a public or shared printer, or upload these files to any public cloud. Please do not distribute these files or any cutters printed from them. Please be cool and don't abuse the system. 
An STL file purchase licenses a single user for personal and home bakery use only. Purchasing an STL file does NOT grant you a commercial license for its use and the files and cutters printed from these files may not be distributed for free, trade, or sale. 
Please note: STL files can not be resized. If you need multiple sizes of a cutter, you must purchase separate STL files. Resizing the files will change the width of the cutting edge and walls of the cutter. 
TO PURCHASE: please select the number of STL files you would like to purchase (each cutter is a separate file. If purchasing a cutter set, you will need to purchase a file for each cutter in the set. We do not offer a set discount for STL files.) Once we have your order we will email you and ask you what files you would like. For faster processing you can also send us an email with your list of requests at requests@brightoncutters.com - be sure to include design names and sizes. 

24 hour DELIVERY: STL files will be emailed to you within 24 hours (excluding weekends and holidays). Please make sure you include an email with your order so we can send you your files. 

Love these
Quick service, downloads are awesome! I've ordered a few times!!!
STL
I loved the design and the cutter printed beautifully. Great quality. I did see processing times posted, however I thought that was for physical cutters. I was disappointed it wasn't an "instant download" and took almost a week to arrive in my in box.
Hi Jean - the STL file listing does state that our STL files are emailed within 1-4 business days. Usually we send them out in batches when we have a few orders for STL files. Your order was placed over a holiday weekend when we were having a sale so it did take us on the longer end of our stated processing time (your STLs were emailed in 3 business days). But if you need something faster you can always let us know in your email along with your request. Thanks!
Perfect
I love it! The file is very good, the best quality cutter could be printed with the file. I recommend to everyone. I live in Europe, the postage of the cutter would have been very expensive. It's great that you can also buy the wall. I didn't have to pay postage. On the other hand, I received the purchased files by e-mail the next day. (Due to the time difference, I had to wait until the next day.) After 5 days, the cookie cutter was printed. I would not have received the finished items in the mail in such a short time.
Great stl and service
STL for minis cutter and matching popper printed perfectly and very helpful customer service - great experience, thanks!
Perfect pumpkin basket 3.5"
Perfect size and shape! I love how Brighton cutters lists their products clearly so you always know what you're expecting. I've ordered both physical cutters and stl files now, and I can say you won't be disappointed with what you get. Shipping is always within time frame, and I got the stl file soon after I purchased. Great service, files printed perfectly, and very well designed. Thanks so much!