ProductContent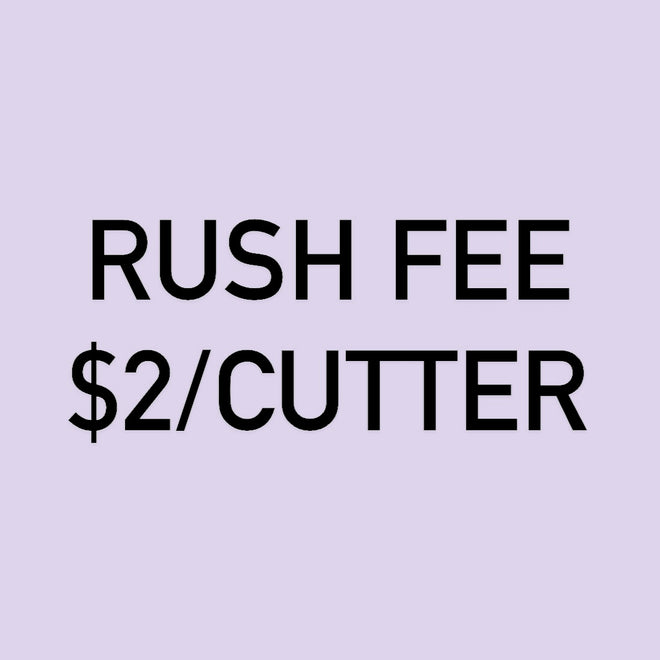 RUSH PROCESSING (Important: view Details before purchase)
RUSH PROCESSING (Important: view Details before purchase)
Product Description
Details, Size & Options
Rush processing is $2 per cookie cutter or item (for example, a multi-cutter, a popper, or a dough stick would each be one item). Please update the quantity for the rush fee in your cart to reflect the number of items in your order and apply the correct rush fee. If your order contains 10 or more items please select RUSH ENTIRE ORDER. Please note: sets contain multiple items - sets do not count as one item. You must pay a rush fee for every cutter, popper or other item in the set. Exception: Artisan Accent Gels and Dilution Solution do not need to be counted towards the Rush fee because these items are not made to order. 
Calculating rush fee: if you purchase 3 individual cookies cutters and one set of cookie cutters that includes 5 cutters, then you are purchasing 8 cutters total and the rush fee is 8 x $2 = $16. 
Rush order terms: Rush orders with complete payment including a rush fee for every cutter or item in the order will leave our shop within 1 - 2 days (excluding weekends). Sometimes we are able to get rush orders out the same day but usually we are able to get it out the next business day. Large rush orders may require up to 48 hours. We can't rush part of an order, so if you only need a few cutters rushed, please order those seperately from the ones you don't need right away. If you don't add in a rush fee for every cutter or tool in the order, you will be billed separately for the rest of the rush fee and your shipment will be delayed until the balance is paid in full.
Shipping: We highly recommend upgrading to USPS Priority Mail, UPS or DHL because they are faster and more reliable than First Class Package Service (free shipping). While we will process your order as fast as we can, we cannot guarantee USPS, UPS or DHL delivery times. 
If you need a cutter fast- do this!!!
Literally such a life saver! When I had a pretty specific set come in as a late order I knew I needed a specific cutter but given the time constraint it would be nearly impossible. Not with Brighton!!! Y'all I sweat it shipped same day, it was wild, I couldn't believe it. And it arrive before the initial arrival date- such a great experience all the way around!